Advance Foliayage Class designed to maximize time management while learning to use the latest version of lightener, easy to apply to create seamless blondes.
Workshop include a Theory Presentation and Live Model Demonstrations.
Advance Foliayage Class diseñada para maximizar la administración del tiempo mientras aprendes a usar la última versión de aclarado, fácil de aplicar para crear rubios perfectos.
El taller incluye una presentación teórica y demostraciones de modelos en vivo.
Cost: $200.00  *Includes bag of products and lunch.
Emmediciotto International Educators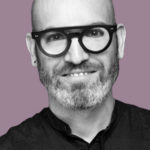 USA
Luca Frangione
As a stylist Luca was born in London. Then he developed his skills in collaboration with the most prestigious international hairstylists. Thanks to his spirit of initiative in Education, today he is a protagonist in the most important cities of the world, Los Angeles, Taipei, Dubai. His exclusive vision of beauty and continuous search for new challenge let him become a Brand & Education Manager in the USA with the goal to communicate and promote the philosophy of Emmediciotto.