Secrets For A Perfect Balayage
February 17th & 18th, 2020
Secrets for a Perfect Balayage
Presented by Emmediciotto International Artistic Team Educators Maurizio Isopi & Luca Frangione
• Two Days Hands-on class all about the latest balayage techniques
• Discovering the best techniques to achieve natural looks
• Learn how to personalize in base of clients features
$250.00
Includes mannequin head, color products, and lunch.
What To Bring
Clips, combs, blower and brushes.
Emmediciotto International Educators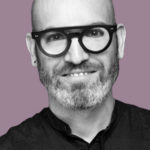 USA
Luca Frangione
As a stylist Luca was born in London. Then he developed his skills in collaboration with the most prestigious international hairstylists. Thanks to his spirit of initiative in Education, today he is a protagonist in the most important cities of the world, Los Angeles, Taipei, Dubai. His exclusive vision of beauty and continuous search for new challenge let him become a Brand & Education Manager in the USA with the goal to communicate and promote the philosophy of Emmediciotto.
ITALY
Maurizio Isopi
Hey man: you're rocking the stage!" This sentence coming from the audience during the last Hair Forum Poland, perfectly describes Maurizio's soul: a perfect balance between the energy of punk and the expressiveness of blues. An artist who loves to create in the fashion world where there's no place for sunsets but thousands of visions. As member of the Emmediciotto artistic team he takes care of the education and brings his shows worldwide: Spain, Netherlands, Poland, Russia, Armenia, and United States.