Master Color Correction English Only
Visual Class where step by step is taught how to become a Master Colorist:
– Understand common problems and solutions associated with color correction.
– Determine expert recommendations and realistic results for their client based on a proper consultation.
– Gain a thorough knowledge and understanding of coloring grey hair.
– Understand how to analize, diagnose and formulate dark hair for blonde results.
Cost: $100.00  *Includes bag of products and lunch.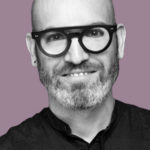 ITALY
Luca Frangione
As a stylist Luca was born in London. Then he developed his skills in collaboration with the most prestigious international hairstylists. Thanks to his spirit of initiative in Education, today he is a protagonist in the most important cities of the world, Los Angeles, Taipei, Dubai. His exclusive vision of beauty and continuous search for new challenge let him become a Brand & Education Manager in the USA with the goal to communicate and promote the philosophy of LINEA45.