Color Placement by Linea45.
What's the secret to achieving depth, dimension and a seamless blend? It's all about LOCATION, LOCATION, LOCATION! Having the proper placement is key for achieving: a bright money piece, a blended back hairline, a dimensional lowlight—pretty much ANYTHING!
¿Cuál es el secreto para lograr profundidad, dimensión y una combinación perfecta? ¡Se trata de UBICACIÓN, UBICACIÓN, UBICACIÓN! Tener la ubicación adecuada es clave para lograr: una pieza frontal brillante, un contorno difuminado, un reflejo suave dimensional, ¡Casi CUALQUIER COSA!
Cost: $250.00  *Includes bag of products and lunch.
Linea45 International Educator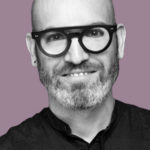 USA
Luca Frangione
As a stylist Luca was born in London. Then he developed his skills in collaboration with the most prestigious international hairstylists. Thanks to his spirit of initiative in Education, today he is a protagonist in the most important cities of the world, Los Angeles, Taipei, Dubai. His exclusive vision of beauty and continuous search for new challenge let him become a Brand & Education Manager in the USA with the goal to communicate and promote the philosophy of LINEA45.